Irish Cancer Society fundraiser receives overwhelming support all across the county, with organisers pledging to go even bigger and better in 2024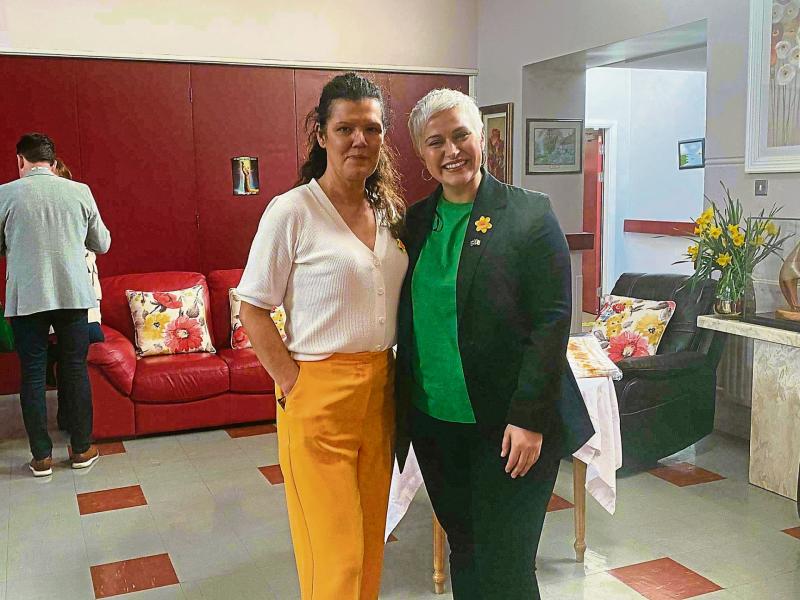 Patients, survivors, volunteers, supporters, and everyone else in between, there are few homes that have escaped the clutches of cancer, and fewer still that haven't been touched by the amazing work being carried out by the Irish Cancer Society. Across Longford at the weekend, the mass appreciation for the brilliant work being done by the charity was very evident, and local MEP Maria Walsh was in Longford town to meet with the community, volunteers, and the palliative care nurses, and pledge her support for the charity and volunteers in Longford, and indeed all across the region.
As a county, Longford has long had a strong Daffodil Day tradition, thanks in no small part to the fantastic work of the county's volunteer community. Following the disturbance of COVID-19, and a change of the guard at local level, 2023 began without a Longford coordinator, and with a gap that badly needed to be filled. In mid February, Noeleen McTaggart realised the position desperately needed filling and, true to form, stepped up to embrace the challenge. Realising the clock was ticking, she quickly rallied the troops and was bowled over by the response. Attracting a team of more than 45 volunteers, Noeleen was further encouraged when she received a call from Maria Walah, with the Fine Gael MEP offering to put some time aside on Friday, March 24th, to do her bit to help the worthy cause.
Despite the harsh weather conditions at the weekend, the people of Longford were out in force to offer their support, and the organisers were overwhelmed. "The planning started in mid February and although we had a short run-in time, the support was incredible and there were volunteers aplenty. To be honest, the backing was so incredible that it took on a life of its own, and already we're looking forward to making it even bigger and better next year," said Noeleen McTaggart, Daffodil Day Coordinator for Longford.
Midlands-North-West MEP Maria Walsh was delighted to offer her support. "We are all far too familiar with the truly brilliant work being done by the Irish Cancer Society, and we are also conscious that it has been a particularly challenging few years for companies and organisations everywhere. Like many charities, the COVID years were particularly challenging, and realistically, it has probably never been so important that we support the wonderful work being done by the charity. They have never needed our help more than they do now," said MEP Walsh.
Continuing, she praised the people of Longford who have always been generous in their support of Daffodil Day, and said the funds raised would be vital in providing services like free counselling and night nursing. "The services offered by the Irish Cancer Society are so vital. Here in Longford, in 2022, 201 free counselling sessions were provided, while 116 nights of Night Nursing were delivered to allow cancer patients to spend their final days at home, surrounded by their loved ones. Last year, across Longford, more than 100 people were helped by the Irish Cancer Society Support Line and Daffodil Centres," she continued.
MEP Walsh took time out to join the Daffodil Day team on Friday, as part of a whistle-stop tour of the town. Among her other engagements was a visit to Longford Women's Link, where she met with Kathleen Dowd, CE Scheme Supervisor, and the team, and heard all about the fantastic work being done by the domestic violence support and community employment teams.
Overall, the Midlands-North-West MEP enjoyed meeting with the community in Longford on Friday, and was thrilled to celebrate the success of Daffodil Day. In addition to concentrating on Longford town, the organisers were delighted to get other communities involved and so had fundraisers placed in Ballymahon, Edgeworthstown and Newtownforbes too. According to Noeleen McTarggart, however, this is just the beginning.
"The response this year, despite the short notice and prep time, was absolutely unbelievable. Daffodil Day was a tremendous success, but it's only just the beginning. I've no doubt that 2024 will take on a life of its own and it will be bigger and better than ever before," added Noeleen.