MEP Walsh met with Minister Simon Coveney and called for the creation of Gaming and an Esports Strategy for Ireland.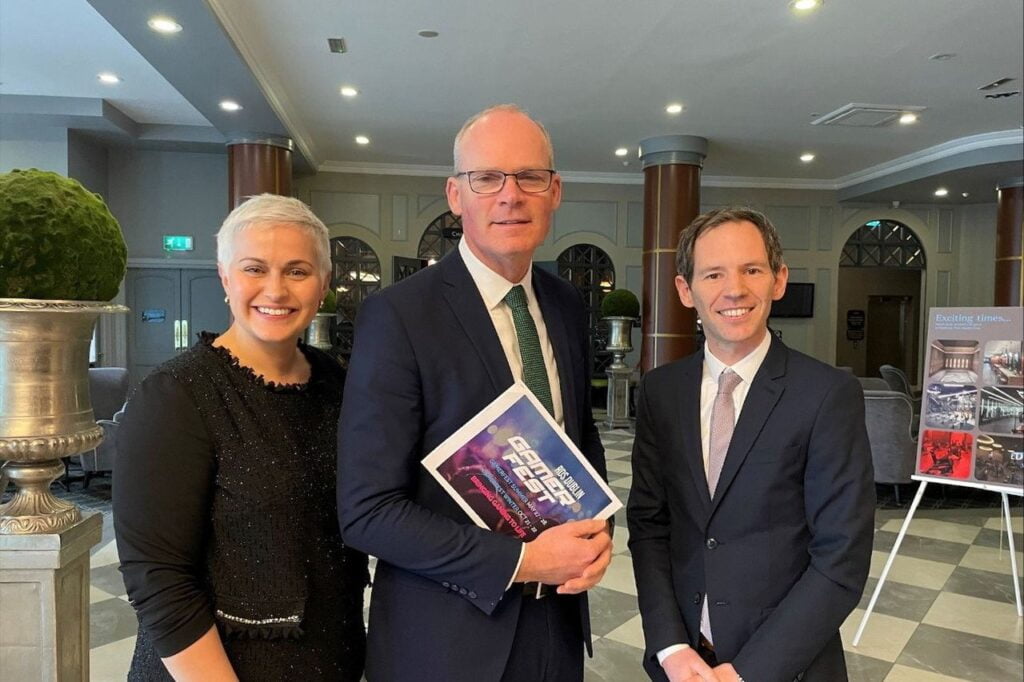 MEP Maria Walsh has called on the Minister for Enterprise, Trade and Employment, Simon Coveney, to take full advantage of the social, cultural and economic opportunities that gaming and the esports industry present. As the only Irish representative on the European Parliament's Culture & Education (CULT) Committee, MEP Walsh is a vocal supporter of the opportunities from the growing industry in Ireland. She has a clear insight into upcoming policies, the work being done by other Member States, and how Ireland can benefit from the multi-billion dollar global growing industry. On Thursday afternoon, in partnership with Stuart Dempsey, Founder and CEO of GamerFest, she met with Minister Coveney in Portlaoise, Co Laois.
Taking place at the RDS on May 27th and 28th, GamerFest is Ireland's biggest gaming convention and esports event. Since its launch in 2017, it has welcomed over 15,000 visitors to gaming events across Ireland. Next month's event will enable attendees to check out the latest games, meet their favourite content creators, and enjoy a packed lineup of gaming action on the Esports Live Stage. In recent years, GamerFest has partnered with multiple global games publishers including Warner Bros, Sega, Playstation and Xbox, while the Williams Formula 1 Esports Team are attending May's event with state-of-the-art sim racing rigs for the Irish audience to experience.
Ahead of the event, MEP Walsh was delighted to introduce Galway native Stuart Dempsey to Minister Coveney and to highlight the importance of this event, and indeed the industry as a whole. In a positive meeting on Thursday afternoon, she spoke of the value of the esports and video game industries, recommending that Ireland follows Denmark's progressive approach, with a long-term strategy to support and fund the sector.
"In 2019, Denmark became the first country in the world to develop and launch a Gaming and Esports Strategy to provide assistance to the sector's growth, development and integration of the industry. I want to see Ireland follow suit. This would involve an interdepartmental task force examining how to promote growth conditions for gaming and esports, and reinforcing Ireland's ability to compete in attracting and developing major content creators and events," she said.
Looking forward to the return of GamerFest to the RDS, Dempsey said it was encouraging to meet Minister Coveney with MEP Maria Walsh. "It was invaluable to have the opportunity to discuss the huge opportunities that the industry offers for Ireland, as well as the role that GamerFest can play in its continued growth. The sheer scale of the global games industry is unknown to many, however it represents a clear path to continued economic growth and job creation here in Ireland for the next 20 years," he explained.
Globally, the gaming industry is worth almost US$200 billion, and is bigger than Hollywood and the music industry combined. According to a recent Statista Report, the global video game market generated approximately US$198.60 billion of revenue in 2021. By 2027, the combined digital and physical video gaming market revenues worldwide are projected to reach US$298.20 billion.
"At a European level, we have been taking a closer look at the many opportunities for growth in the sector. Here in Ireland, we have a strong creative sector and I believe we are well-placed to establish the Island as a leading gaming and esports hub for Europe. There are currently around two million gamers in Ireland, with an estimated 700,000 esports enthusiasts. It is vital that we embrace the social, cultural and economic benefits of such a massively important industry and ensure Ireland becomes recognised as a major global player," added MEP Walsh.