Seven decades of service to Fine Gael sees local duo acknowledged and applauded, with surprise presentation by An Taoiseach in Headford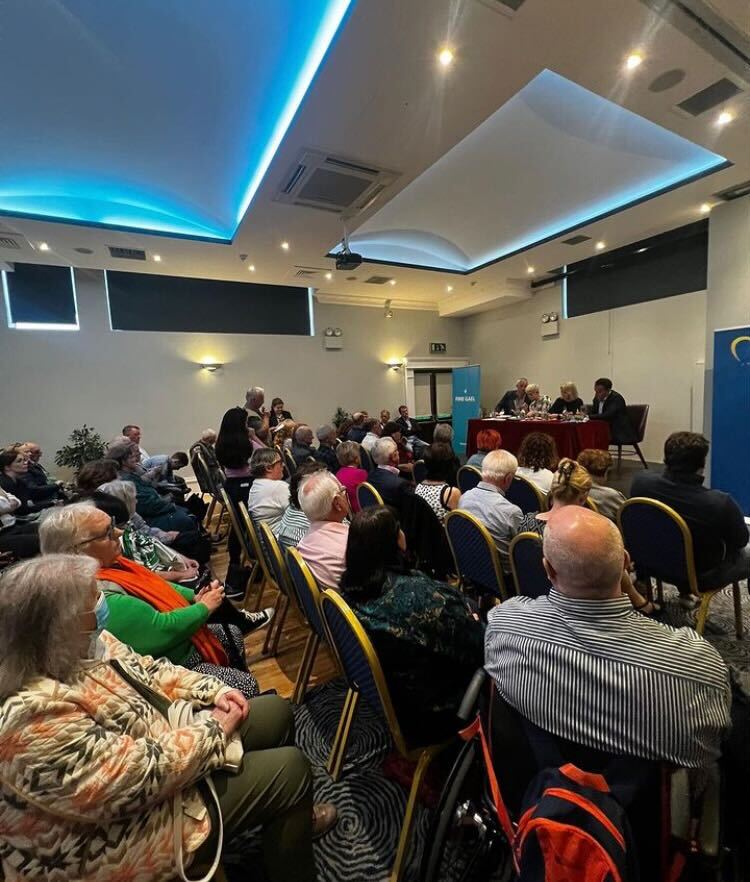 Two of Galway's finest Fine Gael stalwarts have been recognised for their outstanding service to the Party. Caherlistrane's Kevin McHugh and Paddy Fahy from Headford were applauded and congratulated for their dedication to Fine Gael during An Taoiseach's visit to the region on Thursday. In a surprise presentation in The Anglers' Rest Hotel, organised by local Cllr Andrew Reddington and MEP Maria Walsh, the pair were presented with special certificates by An Taoiseach Leo Varadkar, recognising – in each case – a lifetime of outstanding service. Personalised for Kevin McHugh and Paddy Fahy, the certificates acknowledged the great contribution of both men across many years, and recognised the importance of such work in the preservation of democracy throughout the country.
Well known in their local communities and indeed across the county, Kevin McHugh and Paddy Fahy have been involved locally with Fine Gael for more than 70 years. Regulars on campaign trails across several decades, they have tirelessly canvassed in local, general and European elections on behalf of local candidates. Both men are extremely well respected in their home parishes of Caherlistrane and Headford, and indeed all over the county and region.
Congratulating Kevin and Paddy, Cllr Andrew Reddington said both he and MEP Walsh felt it was extremely important that the Taoiseach would recognise their dedication during his visit to Headford. "The presentations were a great surprise for Kevin and Paddy, and so well deserved in each case. Personally, they were a huge support to me in the last local election, and indeed since then. Their dedication to Fine Gael is unwavering and it was really special to see them both recognised by the Taoiseach in their local community," he said. 
Echoing Cllr Reddington's sentiments, MEP Maria Walsh thanked both Kevin and Paddy for their friendship and support since she entered politics, and indeed for their dedication to the Party across so many years. "Kevin and Paddy are inspirational. They are full of energy, and always willing to get involved and lend a helping hand. I am thrilled to see them both being recognised in this way, and particularly delighted that the Taoiseach could join us to acknowledge their enduring commitment to Fine Gael," added MEP Walsh.